Join Run Jenny for the official "Goodbye" Video Release Party
Join Miss USA 2013 Erin Brady and members of Run Jenny as we world premiere the video for our first single "Goodbye". The event is Sunday, September 21, 2014 from 7 - 9 at The Reserve, 16 Colony St, Meriden, CT. Light appetizers will be provided(while supplies last!) and Run Jenny will be performing a short set as well. Get your tickets today!
Therapy Sessions Available Now!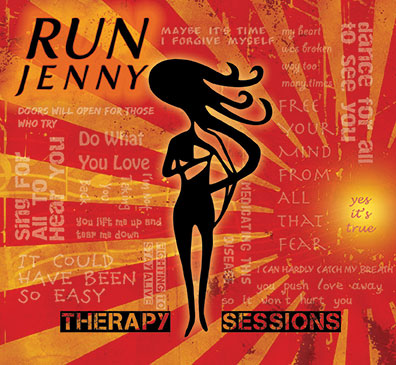 Run Jenny's debut cd Therapy Sessions is now available.
Also available for purchase and digital download on CD Baby.
Available now on iTunes and Spotify!
Track Listing:
Goodbye
Get My Whiskey On
Oh I
Run Jenny
If You Love Someone
Sugar Beats
Falling To Pieces
Nothing Compares
Invisible
Empty
Run Jenny
Therapy Sessions CD $10.00
About
Run Jenny, the explosive, all-female, commercial-pop, alternative-rock infused band is planned to hit the original music scene in 2014. Although newly formed, Run Jenny has over a decade of performance experience in consisting of members of Sister Funk, the longstanding nationally recognized band.
Run Jenny's highly anticipated 2014 debut CD, Therapy Sessions, has been described as simply-complicated. Their simple, catchy, melodic commercial songs layered with complicated, emotional and thought provoking lyrics. Their songs inspired by everyday experiences: love, strength, heartbreak, and over coming personal struggles. A sound that is both fresh and current pop with a hard rock edge.
Run Jenny is diversified. Lots of harmonies and 2 lead vocalists offer variety not often heard in today's music. They are not only great commercial songwriters they are true performers. You can feel their love for music in every note played. They are fun to watch and they treat every performance as if they were rocking out in an arena.
Music heals, inspires and changes you. It speaks to you even when you might not want to listen. Run Jenny's music promises that experience. Look for Run Jenny's debut CD, Therapy Sessions on iTunes in 2014.
Shows
Date
Time
Venue
Address
09/20/2014
5:15 PM
Stargaze Festival
Barrington Shores Campground - 7 Barrington Shores Drive, Barrington, NH
Spend 3 days in New Hampshire and participate in a community of art, music, and workshops. Enjoy the campfire and sounds in our outdoor acoustic lounge, rock-out to our afternoon concert, and light up the night with our glow party.
09/21/2014
7:00 PM
"Goodbye" Video Release Party at the Reserve
16 Colony St, Meriden, CT
Come celebrate the release of our video Goodbye featuring Miss Universe 2013 Erin Brady. Tickets are $7 in advance $10 at the door. Appetizers while supplies last! Get your tickets today!
10/19/2014
12:00 pm
Glastonbury Apple Harvest Festival
Riverfront Park 300 Welles St, Glastonbury, CT
Come celebrate the 40th anniversary of the festival.
11/07/2014
9:30 PM
Two Boots
281 Fairfield Ave, Bridgeport, CT 203-331-1377
11/14/2014
8:00 PM
Benefit Show - Mike's Blue Collar Bar
428 South Cherry Street, Wallingford, CT 203-269-6453
Also featuring Carrie Ashton. Benefit for Fisher House in CT with a % going to our "Imagine It" Music Education Fund.
12/06/2014
8:00 PM
Highland Inn
240 Valley View Lane, Bethlehem, NH
Booking
Please direct booking inquiries for Run Jenny to booking@runjenny.com.