Run Jenny interviewed on Tyman on Tap!
Just Released: Run Jenny's new video for "Goodbye" starring Miss USA 2013 Erin Brady!
Run Jenny's debut cd Therapy Sessions is now available.
Also available for purchase and digital download on CD Baby.
Available now on iTunes and Spotify!
Run Jenny Therapy Sessions CD $10.00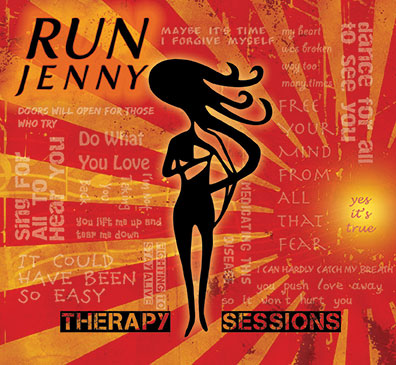 About
Run Jenny, the explosive, all-female, commercial-pop, alternative-rock infused band hit the original music scene on June 27th, 2014 with their CD release performance at the Outer Space Ballroom in Hamden, CT, which was a SOLD OUT show.
Although newly formed, Run Jenny has over a decade of performance experience in consisting of members of a longstanding nationally recognized band. As their sound developed their style had strayed from their original funk / groove vein so they decided to brand the new material under a new name, Run Jenny. Their highly anticipated 2014 debut CD, Therapy Sessions, has been described as simply - complicated. Their simple, catchy, commercial songs layered with complicated, emotional and thought provoking lyrics. The band members are excited to share what they describe to be their most raw and emotional material yet to be released. The songs were inspired by their interpersonal struggles experienced over the past few years that actually landed them in group therapy, thus the title of the new CD.
This disc takes you on a musical journey, from heartbreak to empowerment; lessons learned, finding your inner strength and allowing love to overcome personal struggles. The CD was mixed/mastered by Phil Greene; master engineer for New Kids on The Block 'Hang Tough'. According to Phil Greene, "Therapy Sessions has at least 5 hit singles on it; the last time I said that I sold 10-million copies". The CD also features Michael Antunes on tenor sax, saxophonist for John Cafferty and Beaver Brown Band.
September 2014 the band released their new music video, directed by Cesar Hondares of Czar Production for Goodbye, the single off the disc. The video features Erin Brady, former Miss USA David Gere a nationally known actor.
November 2014, 2 tracks off of Therapy Sessions were nominated for the RightOUTtv&music awards in the Best Country and Best Rock categories, selected among thousands of GLBTQ artists.
In January 2015, Run Jenny's Get My Whiskey on was nominated in the Best Folk/Country category for the 2015 OUTMUSIC Awards.
Although Run Jenny's musical style is hard to describe as it crosses pop, blues and rock genres. It offers something for everyone. Music heals, inspires and changes you. It speaks to you even when you might not want to listen. Run Jenny's, music promises that experience. Look for Run Jenny's debut CD, Therapy Sessions on iTunes and Spotify.
Shows
Date
Time
Venue
Address
04/18/2015
TBD
Voices for Hope Benefit Concert at Mechanics Hall
321 Main St, Worcester, MA
Join us for this benefit concert to raise money for an upcoming feature film about a young lesbian using art therapy to recover from past child abuse hosted by Suzanne Westenhoefer, featuring performances by Antigone Rising, Bitch, Catie Curtis, Kristen Merlin, Melissa Ferrick, Sick of Sarah, Uh Huh Her, The Last Year, Kerri Powers, Lauren Bateman, Kim Jennings, Bethel Steele. Click here for tickets.
05/01/2015
8:00 PM
Mike's Blue Collar Bar w/Carrie Ashton
428 S Cherry St, Wallingford, CT 203-269-6453
Carrie Ashton plays 8:00 - 9:45. Run Jenny plays 10:15 - 12:00
08/14/2015
9:30 PM
Two Boots
281 Fairfield Ave, Bridgeport, CT 203-331-1377
Booking
Please direct booking inquiries for Run Jenny to booking@runjenny.com.