Run Jenny interviewed on Tyman on Tap!
Just Released: Run Jenny's new video for "Goodbye" starring Miss USA 2013 Erin Brady!
Therapy Sessions Available Now!
Run Jenny's debut cd Therapy Sessions is now available.
Also available for purchase and digital download on CD Baby.
Available now on iTunes and Spotify!
Run Jenny Therapy Sessions CD $10.00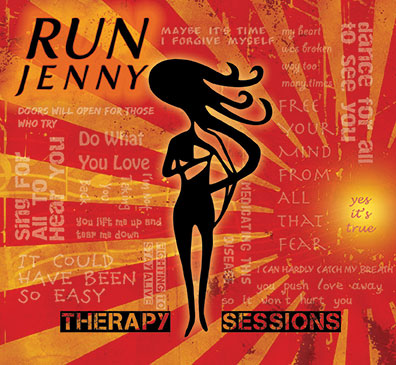 About
Run Jenny, the explosive, all-female, commercial-pop, alternative-rock infused band is planned to hit the original music scene in 2014. Although newly formed, Run Jenny has over a decade of performance experience in consisting of members of Sister Funk, the longstanding nationally recognized band.
Run Jenny's highly anticipated 2014 debut CD, Therapy Sessions, has been described as simply-complicated. Their simple, catchy, melodic commercial songs layered with complicated, emotional and thought provoking lyrics. Their songs inspired by everyday experiences: love, strength, heartbreak, and over coming personal struggles. A sound that is both fresh and current pop with a hard rock edge.
Run Jenny is diversified. Lots of harmonies and 2 lead vocalists offer variety not often heard in today's music. They are not only great commercial songwriters they are true performers. You can feel their love for music in every note played. They are fun to watch and they treat every performance as if they were rocking out in an arena.
Music heals, inspires and changes you. It speaks to you even when you might not want to listen. Run Jenny's music promises that experience. Look for Run Jenny's debut CD, Therapy Sessions on iTunes in 2014.
Shows
Date
Time
Venue
Address
01/02/2015
7:15 AM
Metropolitan Room Guinness World Record for Longest Variety Show
34 WEST 22ND ST, New York, NY
We'll be setting a new record for THE LONGEST VARIETY SHOW and inadvertently, The Most Number of Individual Acts in one Show.
02/06/2015
8:00PM
The Funky Monkey Cafe & Gallery
130 Elm St, Cheshire, CT
03/07/2015
9:30 PM
Two Boots
281 Fairfield Ave, Bridgeport, CT 203-331-1377
08/14/2015
9:30 PM
Two Boots
281 Fairfield Ave, Bridgeport, CT 203-331-1377
Booking
Please direct booking inquiries for Run Jenny to booking@runjenny.com.